Princess Louisa Inlet / Chatterbox Falls
Princess Louisa Inlet / Chatterbox Falls
Princess Louisa Inlet, located in the stunningly beautiful province of British Columbia, is a destination that should be on every traveler's bucket list. Nestled within towering mountain peaks and pristine forests, this inlet is a true natural wonder. At its head, visitors will find the breathtaking Chatterbox Falls, a cascading waterfall that is sure to leave a lasting impression.
The journey to Princess Louisa Inlet is just as impressive as the destination itself. We arrive there by sailing through the scenic Jervis Inlet and into the narrow channels of the inlet. Along the way, you will be treated to breathtaking views of the rugged coastline, lush forests, and abundant wildlife that call this area home.
Once in the inlet, visitors will be struck by the sheer beauty of their surroundings. The towering mountains rise up from the water's edge, while the dense forests provide a habitat for a wide variety of flora and fauna. And at the head of the inlet, Chatterbox Falls waits to greet visitors with its thundering waters and misty spray.
Whether you're an avid nature lover or simply seeking a break from the hustle and bustle of everyday life, Princess Louisa Inlet and Chatterbox Falls are sure to captivate and inspire. Come and experience the awe-inspiring beauty of this natural wonder for yourself!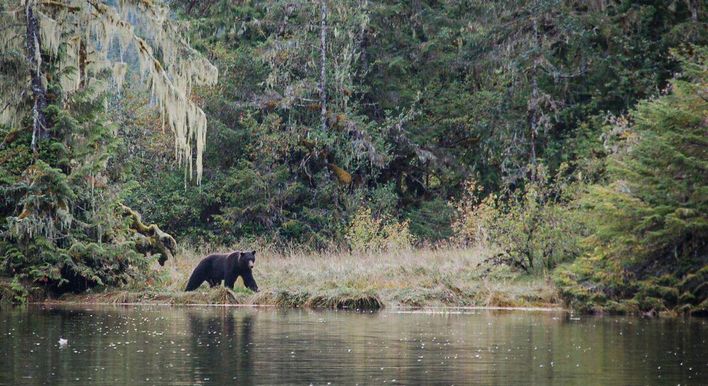 We will be offering this tour again in late August/early September 2025.
Please use the contact form on this page to let us know you have interest, or have any questions.
Prices are yet to be determined, but will probably be around $5999 per person all inclusive of food and beverages.
Sail with us to where civilization gradually fades astern. Northwest is where we're headed, underneath a golden sky as we begin to get a taste of the wilder side of the North American coast. Natural Hot Springs, 10,000 yr old protected First Nation villages, ancient totem poles, pods of leaping dolphins, Orcas, Humpbacks, Bears, Rain Wolves. These are just some of the highlights on our farthest north tour. This is a true adventure, but with all the creature comforts and safety we've developed from over 20 years of experience with this route.
We pass north through the Inside Passage roughly retracing the route that Captain George Vancouver did in 1792. Much of the area looks the same now as it did then. With each day aboard, you'll feel a deeper connection to the natural world as you let the stresses of everyday land based life melt away.
Sailing aboard the S/V Nawalak is about escaping the crowds, relaxing, and connecting with nature and the sea while exploring the quiet beaches and pristine islands of the northwest. During our tours we share with you the gems and secrets we've discovered in our 30+ years of sailing these amazing waterways.
27 Reviews